Enjoy the taste of local greens YEAR ROUND! Oasis Springs Farm is committed to providing our community with nutrient dense greens grown hydroponically to eliminate soil, herbicides and pesticides and helping to support energy and water conservation.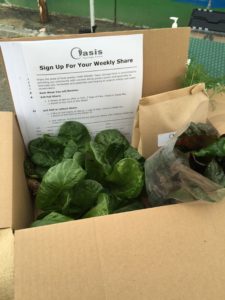 $15 Each Week You will Receive:
5 Heads of lettuce (Mini or full), 1 bag of Greens (Kale, Chard, Kalettes, Bok Choy etc.. or Salad Mix) and 1 Herb or Microgreen of the Week!
or Only Lettuce Option is 10 Heads each week
---
Winter 2018 Session Sign Ups (Jan 2-Mar 14) –  Now Open!
Click  *** Winter 2018 – Weekly Share Form *** for Complete Payment and Pick-up Options.
*** This session is always our MOST POPULAR so if you are interested please contact us ASAP to sign up or be put on the waiting list. Thanks! ***
Weekly Share FAQs
How does the payment work?
You are required to pay for the entire session up front. This helps plan our harvests in the farm. You can pay with check, cash or by credit card.
Do I have to fill out the form?
No, we are super relaxed. Just email, FB message or text us which share you want, which pick up site you want and how you want to pay.
What if I need to miss a week?
We understand life gets busy and you may be away. Let us know ahead of time and we can either give you double another week or donate your share to the local food pantry.
What if I forget to tell you or forget a pickup?
We understand! The first time we will contact you and try to make arrangements for a different pickup time or place. We do send out a weekly reminder via email.
What if I don't like something like bok choy or cilantro?
While we can't guarantee what gets harvested each week, everyone can let us know when you sign up things you really like and things you hate and we will work with you.
Have more questions? Email us at sarah@oasisspringsfarm.com or call/text (603) 930-1294