Enjoy the taste of local greens YEAR ROUND! Oasis Springs Farm is committed to providing our community with nutrient dense greens grown hydroponically to eliminate soil, herbicides and pesticides and helping to support energy and water conservation.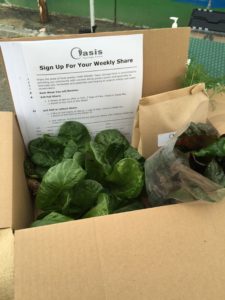 $15 Each Week You will Receive:
5 Heads of lettuce (Mini or full), 1 bag of Greens (Kale, Chard, Mustard Greens, etc.. or Salad Mix) and 1 Herb or Microgreen of the Week!
---
Sign Ups NOW Open for 12 Week Spring Season 2017
Runs March 13 – May 19, 2017
**Pick up locations in Nashua (Exits 8 and 5)
Spots are limited at each location so sign up early! Download the Oasis CSA Form Spring 2017  for complete details.
Questions or interested in future shares? Please email Sarah@OasisSpringsFarm.com.