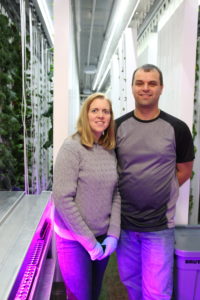 Sarah, who's passion is in cooking and eating really good local food was looking for a hobby to keep Chris busy during those long, dark winter days of New Hampshire. Because of his engineering and technology background she suggested hydroponic planting and the seed of a farm was planted. After testing out some home grown crops, researching starting a business and developing a relationship with Freight Farms in Boston, the idea grew and produced what Oasis Springs Farms is today:  a family run, local farm who's mission is to provide fresh, healthy and local produce year round to our community through environment friendly practices and high tech resources.

Who We Are
Sarah Ward, Co-Owner
Sarah's background includes over 17 years of work expertise in marketing, public relations, project management, relationship building and leadership.  Sarah is the lead on seeding, harvesting, business relationships, sales and delivery coordination.
Chris Ward, Co-Owner
Chris has a Bachelor's of Science in Computer Science and is currently a Vice President of an IT corporation. Work experience includes information technology (IT), planning and engineering. Chris coordinates technical aspects of the hydroponics farm along with financial and strategic planning.