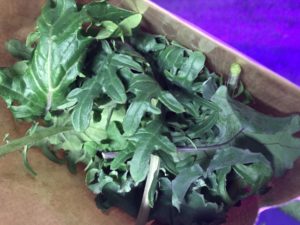 Kale has been one of the main greens offered in our weekly share program. While it is pretty mainstream now, I hear from our customers that they struggle with ways to use it. Hydroponic Kale has the benefit of being extra tender and therefore you can use the stems too.
Here are the top ways I like to eat Kale:
Smoothies – Blend it in to your morning energy shake or afternoon pick me up. My favorites are kale with Pineapple or Frozen Berries. You can also freeze excess kale to throw in later.
Throw Kale into soups, stews or give curry a try (think comfort with the twist).
Sautee in the morning with roast veggies and serve a fried egg on top.
Kale Chips!
Make Kale Pesto and freeze in ice cube tray for quick pasta meals.
Sneak it into Frozen treats like Kale Popsicles!
Dress up an easy shrimp scampi for dinner in 3..2..1!
Need more ideas – Try 50 things to do with kale!
How do you like your kale?